The energy transition is now a business reality that needs augmentation. We must quickly transition from existing carbon-based energy systems to green energy systems that are environmentally sustainable and help in resource conservation.
But among many renewables, hydrogen will surely take the lead as it can be considered a clean energy carrier, similar to electricity. Transitioning to a low-carbon hydrogen-based economy is crucial for addressing climate change, Emissions, and decarbonisation concerns.
In terms of production, it can be produced through domestic resources such as renewable energy and nuclear energy. In the long run, it will reduce the dependence on foreign oil and the emission of greenhouse gases and other pollutants. Especially if produced using low-carbon emitting sources, it will undoubtedly be a most potent alternative for India to achieve net-zero carbon emissions by 2070.
However, India's hydrogen market is currently in the nascent stages of development. But some stringent policy interventions and measures to kickstart research and development can catalyse the nation's green hydrogen growth.
So, in particular, India needs to be more focused on green hydrogen as it is the only form of hydrogen produced from renewable energy sources. But in terms of current production costs, green hydrogen is twice as expensive as Blue and Grey hydrogen. In terms of production, Grey hydrogen is derived from natural gas via the stream methane reforming process; blue hydrogen is derived from fossil fuels via carbon capture.
In the long run and to achieve net-zero emission, only green hydrogen can be seen as a game changer as it eliminates the use of fossil fuels in the production process if efforts are made to use green hydrogen, especially in industries. It will pave the way for the proliferation of the renewable energy market.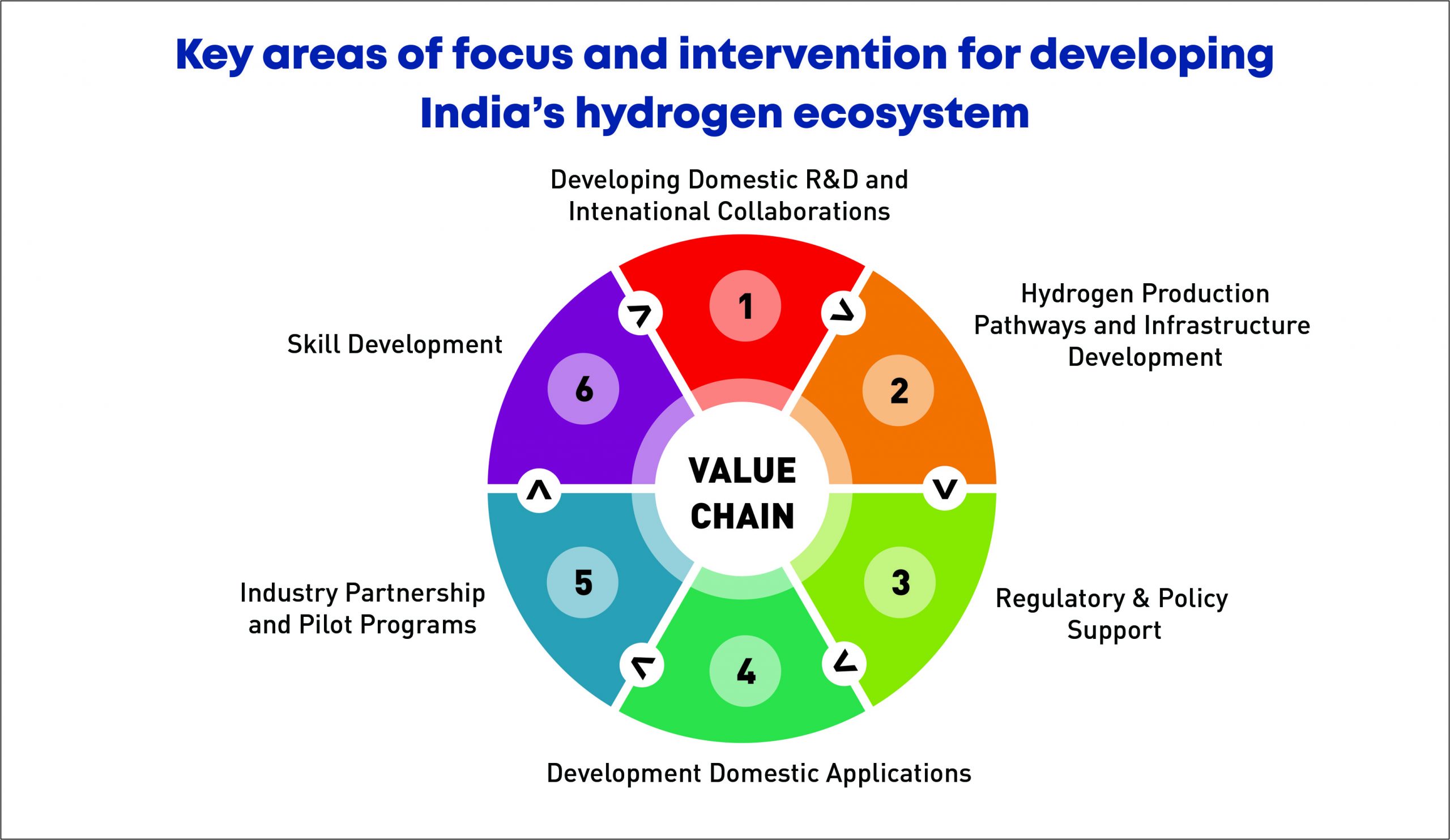 Where does India stand on hydrogen?
India currently produces around 6.7 MT of hydrogen, mainly from the steam reforming of natural gas. With the National Hydrogen Mission launched on our 75th Independence Day by the Hon'ble Prime Minister Shri Narendra Modi, India has announced an ambitious target of producing 5 MT of hydrogen per annum.
In another significant achievement, India and Germany inked a joint declaration of intent on the Indo-German Green Hydrogen Task Force. Under the agreement, which was signed on Monday, both countries will establish an Indo-German Green Hydrogen Task Force to strengthen cooperation in the production, utilisation, storage and distribution of green hydrogen through building enabling frameworks for projects, regulations and standards, trade and joint research and development (R&D) projects.
Why is India betting big on hydrogen?
India is at a very crucial juncture in terms of its energy landscape. Green hydrogen will play a critical role in making the nation self-reliant and energy-independent if harnessed in a full-fledged manner. Hydrogen can be a true 'made-in-India' alternative and contribute to the country's energy security and long-term economic competitiveness. With Hydrogen, India has the best opportunity to capitalise on this new technology and become a world leader in hydrogen production and its applications.
Energy security
The global pandemic covid-19 has taught all the global economies to diversify their energy needs. Recently, the pandemic has caused huge fluctuations in the oil & gas market, disrupted the supply-demand chain, and caused a significant rise in prices. In the case of India, which is a net importer of oil & gas, it needs to find some permanent alternative to fulfil its energy demand.
''Hydrogen demand in India could grow more than fourfold by 2050, representing almost 10% of global demand. Given that the majority of this demand could be met with green hydrogen in the long-term, the cumulative value of the green hydrogen market in India could reach US $8 billion by 2030.''
Emission targets
Being the third largest CO2 emitter across the globe (about 7% of global emissions) after China and the United States of America, India has committed to reduce its emission by 33 to 35% as per the signed Paris Agreement.
(Reference: https://worldpopulationreview.com/country-rankings/carbon-footprint-by-country)
Economic dependencies and balance of trade
India is the third largest crude oil importer, with more than 80 % import dependency. Apart from oil, it imported about 54% of natural gas and 24% of coal. This high dependency largely affects India's financials and leads to inflation and prices of other essential commodities.
Energy subsidies
With the high cost of imported fuel, India has to beat an approximate bill of US$30 billion per year of subsidy on oil & gas, coal, transmission and distribution and renewable energy and electric vehicles
"A report highlighted that India's ambition to produce 5 million tons of green hydrogen by 2030 will need ~115 GW of renewable power generation capacity and ~50 billion litres of demineralised water supply."
Ongoing Research 
New Ways to make hydrogen 
Efforts are on splitting water and produce hydrogen with the help of photosynthetic microbes and enzymes. Another research involves using sunlight to split water into hydrogen and oxygen. A team of researchers is also working on fermentation to convert biomass to produce hydrogen, ethanol and other chemicals.
Efficient Fuel Cells 
A fuel cell has an electrolyte that revolves around two electrodes for splitting water and making energy. To make them more efficient than before, research is going on to improve advanced fuel-cell types like polymer electrolyte membrane, alkaline membrane and direct methanol fuel cells. It will reduce overall cost, size and improve the durability of cells.
Improved Storage systems 
Multiple researches have been going on making Battery Energy Storage Systems more compact, lightweight, and efficient than before. Some studies also focus on using hydrogen as a replacement for petroleum products in mobility solutions.
Policy Support for Transforming India into a Global Hub for Green Hydrogen Production
Based on the multiple studies and surveys on the barriers to market entry and the adoption of hydrogen across the value chain, decision-makers should consider some intervention on the policy front, furthermore, on its distribution and end-use.
Cost-competitive green hydrogen is bound to lead to market creation. The government should encourage near-term market development by identifying industrial clusters and enacting associated viability gap funding and mandates
Introduce some financial incentives like CAPEX susbsidies to increase the commercial viability of hydrogen production.
Improve the ease of doing business by lowering operating costs
Provide some waiver on open access charges to lower the cost of power for hydrogen production (especially for green hydrogen production)
Decision-makers must include hydrogen in the existing renewable purchase obligation mandate
To achieve technical breakthroughs and innovation to improve the commercial viability of hydrogen, the government could consider allocating  a dedicated fund for Research & Development to the industries
Create some measures to promote electrolyser manufacturing
A Roadmap to Conclusion
It is a very debatable issue to discuss the adoption of fossil fuel-based hydrogen rather than green hydrogen. But, as per India's energy needs, both blue and green forms of hydrogen will be required to drive the hydrogen ecosystem. However, Prime Minister Narendra Modi announced the National Green Hydrogen Mission, which aims to aid the government in meeting its climate commitments and aiding other macroeconomic objectives, such as reducing import dependency and building self-sustainability.
The policy aims to meet the production targets of 5 million tonnes of green hydrogen per year and associated renewable capacity additions by 2030. But if India wants to deploy hydrogen extensively, it requires a mix of both types of hydrogen, technological maturity and competitiveness with other existing methods.
In short, industry and experts say building a policy-driven ecosystem is a must for a green hydrogen revolution. This includes setting up electrolysation units and storage tanks close to manufacturing locations, building cryogenic tanks and incentives such as a PLI scheme for electrolysers.
Once these efforts bear fruit, the industry will be well on its way to herald a green hydrogen revolution.